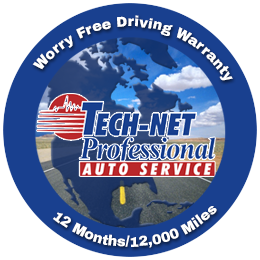 Our Guarantee
Here at Brach's Auto Center we stand by our service. As a TECH-NET PROFESSIONAL AUTO SERVICE® center, we have you covered by a Worry-free Driving Nationwide Warranty. The Worry-free Driving Nationwide Warranty reaches across North America when you need it most, providing vehicle protection on qualifying service and repairs.
Our Warranty program covers most parts and labor for 24 months or 24,000 miles, whichever comes first. We also honor all dealership maintenance contracts with the support of our full range of dealership-level repairs and services. In the event you do need help out of town, there is a large network of centrally located shops that will honor the same warranty terms, no hassle.
How to Contact
Contact the Worry-free Driving Warranty Administrator toll-free at (866) 588-0728 to be directed to the nearest in-network service facility to handle the warranty related repair. Ask for complete warranty coverage information and details on your next service visit.
We are committed to providing a successful and pleasant automotive service experience. Call today to schedule an appointment!