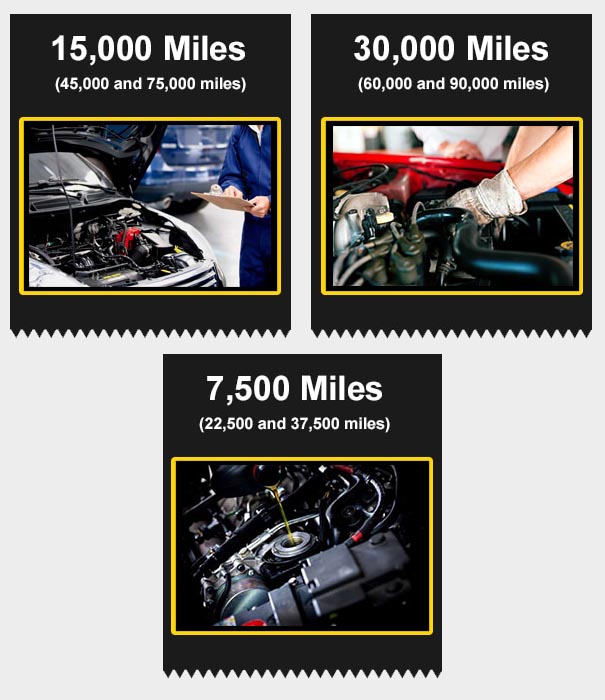 Maintenance Packages
When you bring your vehicle in to Brach's Auto Center, our reliable technicians treat your car with care, as if it were their own.
We highly recommend regular inspection and maintenance services to maximize the selling value of your vehicle and also give you peace of mind on the road. Knowledge is power! Our goal is to enable you to make informed decisions about your vehicle, without feeling pressured. Honesty is our over-arching priority. We guarantee that all service and repairs will be done professionally, in a timely manner. WE HAVE A 12-MONTH WARRANTY ON ALL PARTS AND LABOR, TOO!
All Maintenance Packages Are Tailored to Your Specific Vehicle's Needs!
7,500 MILES
(22,500 and 37,500 miles)
Inspect belts/hoses
Inspect exterior lamps
Inspect wipers/refills
Inspect coolant and top off
Inspect battery and connections
Inspect brakes
Inspect PCV valve
Inspect suspension
Inspect wipers/refill fluid
Inspect A/C System (if applicable)
Inspect parking brake operation
Inspect engine idle
Pack wheel bearings (rear if applicable)
Lube door, hood, tailgate
Check throttle sensor
Inspect engine air filter & cabin filter
Inspect & test fuel injection system
Rotate tires; set pressure
Check emission system monitors
Check starting & charging system
Check steering
Road test
15,000 MILES
(45,000 and 75,000 miles)
Includes 28 – point inspection
Hook up health stream
Perform vehicle health check
Check for open recalls
Check for computer updates
Retorque drive line (where applicable)
Perform battery test
Inspect ball joints
Tighten suspension and chassis bolts
Inspect cabin air filter/engine air filter
Wheel off brake inspection
Inspect brakes, lines, and hoses
Inspect fuel tank, fuel lines, fuel tank vapor system, and fuel cap gasket
Inspect steering rack and pinion linkage
Test fuel injection system
Perform computer system test
Check emmisions monitors
Check starting and charging system
Road Test
30,000 MILES
(60,000 and 90,000 miles)
Includes 81 – point inspection
Inspect Drive belt(s)
NCM Computer Scan (check for hidden OBD II codes)
Charging system load test
Inspect engine coolant, cooling system, hoses, and connections
Test coolant hydrometer reading notes
Inspect fuel filter
Inspect fuel system, lines, and connectons
Inspect air cleaner element
Inspect brake fluid
Inspect disc pads and discs
Inspect front and rear axle boots and joints
Inspect brake lines and brake system
Inspect steering and suspension system
Inspect power steering fluid
Check emission system